Menardi's cartridge filters fit all major manufacturers of cartridge dust collectors:
Traditional round open/open, open closed designs
Horizontal and vertical supported configurations
High efficiency to easy dust release medias available
Caged or strapped configurations to best fit the application
We offer a variety of end caps, designs and medias to fit most cartridge dust collectors and application needs. Contact us today to see if Menardi Cartridges are the right fit for your specific need.
Advantages of using Menardi cartridge filters include:
► Direct replacement for most OE cartridges
► One source for replacement bags, pleated bags, and cartridge filters
► Expertise in all types of dust filtration
► Custom engineered solutions available upon request
► Long time trusted name in the filtration industry
► Short lead-times
Today, there are many different filter designs and it can be difficult to decide upon what media to use, should I use a filter with outer screen or one that uses straps around the media, and more importantly, should I be using something a little different to improve dust release and filter cleanability, achieve higher efficiency, increase filter life and reduce maintenance or whatever it is that you struggle with.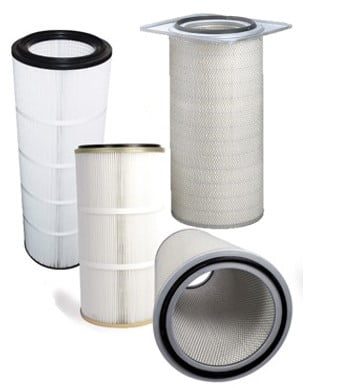 Many companies that sell cartridges are just cartridge sellers but not engineers with decades of application knowledge and troubleshooting expertise. Menardi offers standard cartridge configurations as we understand that may be all you need, but if that's not you, contact us for assist you in coming up with a solution that is best for handling your application, your dust collector, and your company's overall needs.
For those of you with pretty typical cartridge collector applications, the following guide may help you determine what media you should consider and/or confirm what you are using is a good choice. For those of you unhappy with your current cartridge performance, use this guide to see if you are using the correct filter media. If your application is more challenging than this guide can assist with, contact Menardi to discuss and have us help you pick the right media.

There are many different filter media used in cartridge dust filtration applications and the above guide only suggests a few and suggests the most common ones used based on just a few application details. The following table is a list of those media as well as a few others commonly used. This is only a partial list, so if you are looking for another media you don't see, please contact your Menardi specialist for assistance.