Pulse Jet collector at a mining facility in the Kaolin Industry using 22oz Fiberglass filters w/ ePTFE membrane. Customer was having emissions on a spray dryer dust collector and could not find any leaks in the dust collector housing or any of the filter bags using traditional leak detection equipment. Customer was going off-line once per week to run a leak detect test to try and isolate compartments or change filters that were not performing.
Menardi worked with the customer regarding the application and filters in use. We recommended running a leak detection test using our broad range UV light kit and our pure pigment leak detect powder that is more suitable to detect smaller micron size material. Knowing that the filters in use are ePTFE membrane filters, there will be sub-micron material passing thru these filters. Our pure pigment powder has a higher percentage of sub-micron particles to find these leaks than standard powder.
By using the pure pigment powder and UV light, we were able to locate the leaks. By correcting this issue the customer was able to run the filter bags for over two years without stopping for additional leak detection tests.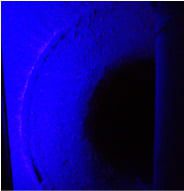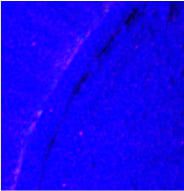 Magnified view:Pink dye in the powder glows under blacklight UV rays