Introducing Menardi-HPF Filter Media
How is it possible to release four times cleaner air from your baghouse? The answer is simple: it's all in the power of Menardi-HPF a revolutionary new filtration media. Today's utilities and industrial users are demanding higher performance filtration; technology which delivers improved collection efficiency with lower operating costs in a robust filtration system. Menardi-HPF combines the benefits of needle loom fiber entangling with a unique hydro-entangling technology to deliver industry leading dust collection performance.
This unique method of fiber entanglement in Menardi-HPF yields a filter media which delivers a powerful combination of lower mean pore size in a strong felt. The lower mean pore size is a result of the improvement in fiber entangling over the traditional needlefelt used today.
According to the well-known VDI filtration efficiency test, Menardi-HPF delivers a 4X improvement in clean gas concentration versus traditional needlefelt – literally 4 times cleaner air. An example is shown in the data on the right which compare a lighter weight Menardi-HPF media to standard needlefelt which is heavier in weight. The results are even more dramatic for Menardi-HPF when comparing against a needlefelt of the same weight.
Contact us today to learn more!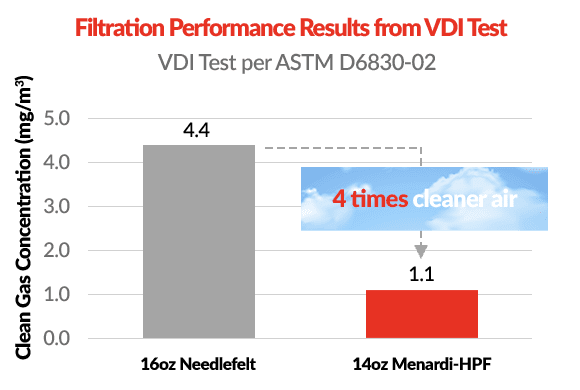 Menardi offers the best in customer support. Please complete our inquiry form and we will respond in 24 hours.
Thank you for your interest in Menardi.